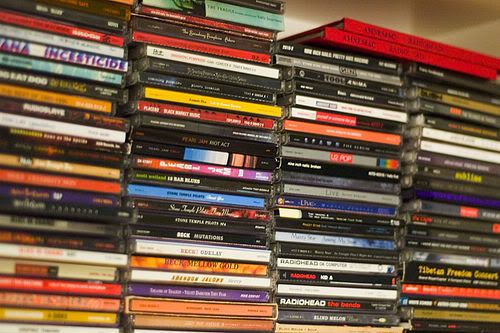 My new job has me downtown. Actually, "uptown" is more apt. Like when we would visit my dad's family in Clinton and all the boys would say we're heading out to buy soda and baseball cards, and the parents would respond, "Oh, you're going
up
town." Uptown has gaggles of teenagers, cloudy storefront glass complete with the residue of Scotch tape, gum spots on the sidewalks, no corporate brandname jostling, less honking traffic, yellow brick buildings stamped with names ("Acquilla Building"). Where I am now is uptown.
Me: It's kinda neat having all these little mom 'n' pop stores around.
New boss: You mean like the just-out-of-business luggage repair shop across the street?
There's an independent record store here, located next door to the office. My boss is friendly with the owners, who are ever-willing to accomodate him with a near endless supply of Lloyd Cole releases. I recently spent a lunch hour in the store's used CD section and returned with a clutch of albums.
Royal Albert Hall October 10 1997 Live
-- in black Sharpie is the letters "WNEC," written in big, blocky text on both the disc itself and the CD booklet. If you're from my neck of the universe, you know that likely stands for Western New England College. Jason Pierce being thoroughly vivisected for the benefit of scholarship -- a rather mind-fucking possiblity I like to consider.
Well, now "Think I'm in Love" is playing on the boss' stereo system. I've never been to Rugby, but I imagine it has an uptown. No downtown. And over there -- under that dirty, red awning over there -- is where someone like Pierce would busk. And I would bang on the thick office windows trying to get his attention.