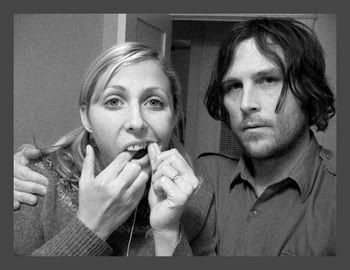 My wife and I get dressed behind a single boudoir screen. We pee in each other's company. We don't share mirror-time and floss together, mainly because we're typically out of floss, but if floss was in cinnamony abundance in our household, we would likely make this yet another ADL gone communal.
John Dragonetti and Blake Hazard once shared mirror-time. But as the story goes, they split up -- only to reconnect to share stage-time as the Submarines. Their latest,
Honeysuckle Weeks
, is inconsistent, but I'm digging on the album's keen sense of self-awareness -- as in, the pair are frequently evoking moments and words connected with childhood, but are ever-aware of their status as individuals with nearly graying tones, weakening eyesight, and more cynical viewpoints.
In "Thorny Thicket," Hazard sings about "prickers and briars" -- the former being a word I haven't heard since traipsing through overgrown, empty lots as a kid -- and how she used them to encircle and protect a once-broken heart. "Swimming Pool" is summertime, childhood leisure mixed with a bit of danger-tinged adult thrill: "When you kiss me in ways I've forgotten / Love is a swimming pool with no bottom."
When you're all grown-up, you notice the subterranean darkness below your kicking feet as much as the smooch. But that's cool. When you're also all grown-up, no one asks you what part of your body the pool water comes up to.